12 inch wince industriepaneel computer
Productdetails
Neem contact op
Vijf voordelen van producten
Hoge stabiliteit, 7x24 uur zonder downtime, met behulp van fanless CPU-processor met laag stroomverbruik en hoge stabiliteit
Hoge betrouwbaarheid, er zijn geen afhandelingsfouten toegestaan, en strikte tests worden doorgegeven
Met zelfherstelfunctie, om te gaan met onverwachte situaties, zoals ononderbroken ontkoppeling en shutdown voor een lange tijd
Communicatie-interface Geschikt voor industrieel gebruik, gemakkelijk uit te breiden
Eenvoudige en gemakkelijke secundaire ontwikkeling, multi-platform, meertalige ondersteuning, die routines levert
Productdetails
1.parameters
Product model
WLT-120R-AM20

Basic parameters
● CPU: Cortex®-A8 architectuur; Frequency 1.0GHZ
● Memory: 512MB DDR3
● Flash 256MB NandFlash
Display scherm
● Formaat 12 inch
● Resolution 800 x 600
● Wide-temperature Type 64K kleuren of 260K kleuren
● LED backlight lifetime>25.000 uur
TOUCH scherm
Resistance aanraakscherm -stuurprogramma binnen
Hardware grensvlak
● 2 kanaal DB9 interface (COM1, COM2)
● 3 kanaal 3-wire RS-232 serial poort ( COM3 COM4 COM5)
● 2 kanaal RS-485 interface COM1 COM2, multiplexen zoals DB9 (COM1 COM2).
● 1 kanaal CAN bus multiplexen zoals COM5COM5 as standaard.optional
● 1 kanaals USB device grensvlak Ondersteuning ActiveSync aansluiten op PC gegevens uit te wisselen en debuggen toepassing .
● 2 kanaals USB hostinterface Ondersteuning gebruikelijke USB device zoals muis , toetsenbord, U disk, enz.
● 1 kanaal 100M Ethernet-interface.
● 1 kanaal SD/MMC slot, ondersteunt SD/MMC-kaart.
● 1 kanaal externe luidspreker interface.
● 2 kanaal 12V~24V industria ● power oplossing higher betrouwbaarheid.
attention
Wanneer de seriële poort is verbonden, moet de GND-draad van beide inrichtingen worden aangesloten voorkomen dat het branden van de seriële chip en communicatie beïnvloeden.
OS
Windows CE 6.0
Defend mate
IP65 (voorzijde)
Working Environment
● power 12V-24V DC/3A
● working temperatuur -10~60 ℃
● storage temperatuur: -20~80 ℃
● working vochtigheid from10 tot 90% RH
Formaat
● shell structuur Metal
● panel size 319x259 mm
● trepanning size 305.2x244.8 mm
Application stippellijn
● industrial control detection apparaat instruments en meters security controle medical apparaten en instrumenten, intelligente terminals embedded hoge-end toepassing.
● Ondersteuning CAN b ons uitrol van hetnetwerk
Software Ondersteuning
● Flash macht-down beveiligingsfunctie
● ĭde:.. Visual Studio 2005/2008.net (.netto 2,0 Compact) Labview development
● Easy wijzigt de gebruiker-defined splash screen
● Ondersteuning beeldscherm draaien (graad:.. 0/90/180/270)
2. Interface definitie

1. COM5-TX of RS-232 (CANL) 2. COM5-RX RS-232 (CANH)
3. GND 4. COM3-RX of RS-232
5. COM3-TX of RS-232 6. COM4-RX of RS-232
7. COM4-TX of RS-232 8. COM2-485B
9. COM2-485A 10. GND
11. COM1-485B 12. COM1-485A

1. 3P 12-24V eindstandig vermogen grensvlak 2. 12-24V power adapter invoerinterface
3. 100M ethernetinterface 4. USB Host-interface USB gastheer
5. USB slave-interface USB ontvangende 6. USB slaveinterface USB Device
7. External luidspreker grensvlak 8. RS-232 COM1 grensvlak isolated
9. RS-232 ( COM2) interface isolated
2.1 RS-232 interface
5 kanaals seriële poort, ondersteunen de hoogste-level baudrate115200bps - overeenkomstige interface WinCE systeem COM1 COM2 COM3 COM4 COM5.
2.2 RS-485 interface
Het corresponderende poort in Win CE systeem COM1/COM2 en multiplexen COM1/COM2 DB9 interface.
2.3 Can Bus interface
Het functie van Can-bus interface is optiona ● en multiplexen als COM5. Ook zonder afsluitweerstand binnen, Pls geef eensnodig
2.4 Power grensvlak
Als afgebeeld:.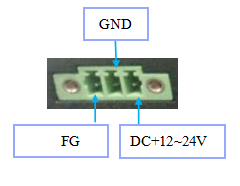 2.5 External luidspreker grensvlak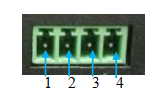 1. left kanaal OUTR+ 2. left kanaal OUTR-
3. right kanaal OUTL+ 4. right kanaal OUTL-
3. Exterior size
Exterior size 319x259x47.5 mm trepanning size 305.2x244.8 mm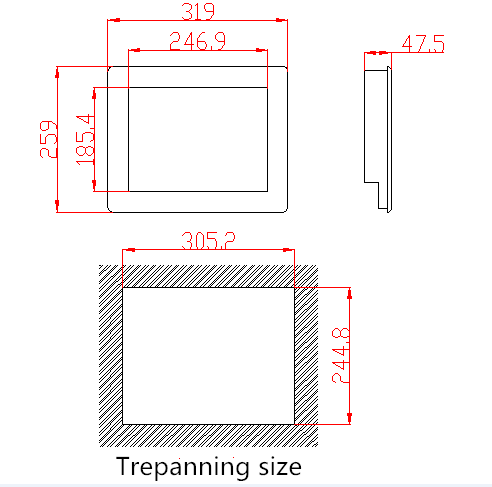 Guangzhou Weiqian computer technology co., LTD.
Contactpersoon: Bella Shen
Telefoon: bella@wqlcd.com
Vaste telefoon: +86 13926272032
bedrijfsadres: Building B, xinzhuang industrial park, no. 84, tianyuan road, yonghe street, huangpu district, guangzhou city, guangdong province,China.
Website: weiqian.invipb2b.com