4.3 inch Linux Industrial Panc PC Industrial PCS Single Board Industrial Tablet
Productdetails
Neem contact op
Vijf voordelen van producten
Hoge stabiliteit, 7x24 uur zonder downtime, met behulp van fanless CPU-processor met laag stroomverbruik en hoge stabiliteit
Hoge betrouwbaarheid, er zijn geen afhandelingsfouten toegestaan, en strikte tests worden doorgegeven
Met zelfherstelfunctie, om te gaan met onverwachte situaties, zoals ononderbroken ontkoppeling en shutdown voor een lange tijd
Communicatie-interface Geschikt voor industrieel gebruik, gemakkelijk uit te breiden
Eenvoudige en gemakkelijke secundaire ontwikkeling, multi-platform, meertalige ondersteuning, die routines biedt.
Productdetails
1.
product model
wlx-043r-np00
basic parameters
l cpu:arm9 architectuur,Frequency 300mhz
l memory:64MB DDR2
Flash:128MB NANDFLASH
display scherm
size:4.3 inch
l
resolution:480 × 272
l
widetemperatuur type-,64k kleuren of 260k kleuren
l
led achtergrondverlichting:lifetime25000 uren>
touch scherm
4
wire resistent touchscreen-(driver in)
hardware-interface
l1 kanaal DB9-interface).nl
1 kanaal 3 WIRE RS232 seriële poort--)L2 kanaal RS485-interface
( com3-,com7),com3 is een multiplexing van kan,com3 standaard.l 1 channel
can bus( driver in)multiplex als RS485 (COM3)(optional-).l1 kanaal USB-apparaatinterface.l
2 kanaal USB HOST-interface ,
support gebruikelijk USB-apparaat zoals muis
, Netyboard,U schijf, l1 kanaal 100m Ethernet-interface.l
1 kanaal SD MMC slot,
support TF-kaart./l1 kanaal externe WIFI-module.
)1 kanaal DC12V24V,industrial power oplossing
,
Higher betrouwbaarheid.~atsementWanneer de seriële poort is aangesloten ,De GND-draad van de twee apparaten moet worden aangesloten om te voorkomen dat de seriële chip wordt verbranding en het beïnvloeden van communicatie.
ln
Defend diplomaip65 (voorpaneel)
working milieu
l
Power
:
dc 12v25v (6W)
l
Werktemperatuur1060 ℃
storage temperatuur:~20
80 ℃
Working vochtigheid :1090% rh-SIZE~ l
shell structuur :plastic-~panel maat
: 139.6 × 86.6()~
ntrepanning size
: 131.2 × 79.2()
industrial control ,detection device,instrumenten en meters
, SEcurity bewaking,Medical apparatuur en instrumenten ,intelligent terminals embedded highend Toepassing.l
l
Support kan busnetwerkimplementatie.
software ondersteuninglFlash powerdown Protection-functie.ll,,, -
arm LINUX GCCGCOMPILER
,shell programmeren
, stl bibliotheek-
,
python2.7 ontwikkeling,support javaC c, /+ETC.+l easy Wijzig het gebruikerdeFined Splash-scherm. lsupport scherm rotatie (diploma90 180270)2. //++/#interface definitie
-1.
45A (canh)2.///
com3 \N485B (CANL)
4.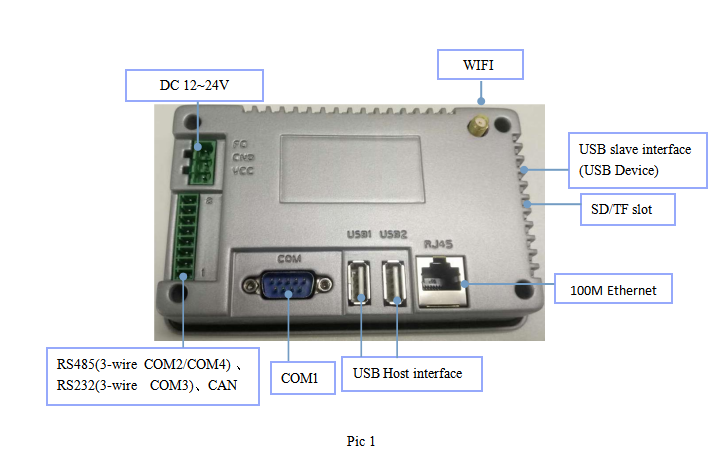 com2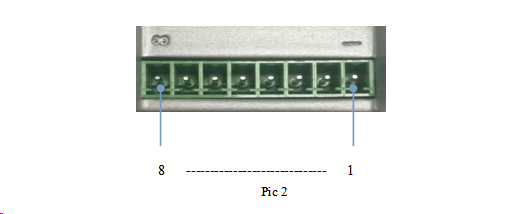 tx van RS232
5. com2-rx van RS232 6. gnd
7. 45A-455A 8.45b
2.1 rs232 interface
2 kanaals seriële poort ,--support de hoogste
level Baudrate115200bps. De corresponderende interface in Linux-systeem is COM1
COM2.2.2 RS485interface interface--
De corresponderende poort in Linux-systeem is COM3
, com7
and com3 is een multiplexing van de kan interface.-
2.3CAN businterface De functie van de kanbus-interface is optioneel-. Ook
, without terminal resistentie binnen,- pls specificeren eenmaal innood.
2.4Power interface -as weergegeven in de figuur~
-
3.exique maatexique maat:
139.6 × 86.6 )
-trepaning size131.2 × 79.2 )
Guangzhou Weiqian computer technology co., LTD.
Contactpersoon: Bella Shen
Telefoon: bella@wqlcd.com
Vaste telefoon: +86 13926272032
bedrijfsadres: Building B, xinzhuang industrial park, no. 84, tianyuan road, yonghe street, huangpu district, guangzhou city, guangdong province,China.
Website: weiqian.invipb2b.com